CAVALIER KING CHARLES SPANIEL
All of our babies were hand picked with a purpose. We are very particular on where we get our dogs and who we get our dogs from. We look for show quality and champion bloodlines with great temperament and quality health, free from genetic diseases. We have their hearts ,eyes, and patellas checked yearly. We two options in health guarantees. We have a standard 1 year health guarantee for any life threatening genetic issue. We also have a 5 year conditional health guarantee. Call for details. We choose each breeding pair with temperament in mind. Knowing that an apple doesn't fall too far from it's tree. The puppies definitely reflect the personality and health of their parents. All of our dogs are so awesome in personality. I have explained a bit about each ones personality, coat and markings below. All of our dogs are unique and we love each one very much!

The King's Grace Revealed in Evelyn
"Evelyn"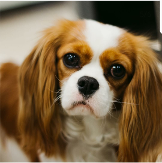 Meet Miss Evelyn. She is my sweet petite girl. Daughter of Silas and Sheba, she has the best of both in temperament and conformation. She makes the most beautiful puppies and is the best mother.
The King's Duchess Returns Home
"Duchess"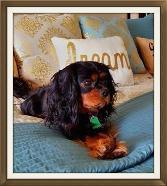 This sweet Duchess. She is the daughter of Solomon and Sadie. She is the sweetest baby and loves to go on car rides. She is our travel companion. She loves for anyone to rub her belly and is THE best hugger out there. Just look how stunning she is!!
Sheeba Arrays Excellence for The King

"Shae"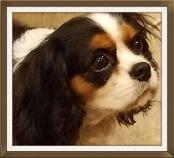 This is sweet Shae. I love her so much! She has the best personality and is well balanced. She loves to play and cuddle. She has an extensive champion bloodline. Her grandfather is CH Sheeba Discover Nemo. We picked Shae because of her pedigree, size and sweet disposition. Her awesome temperment, great health, beauty and pedigree will make some top of the line puppies!
Queen Sheba Travels for The King
"Sheba"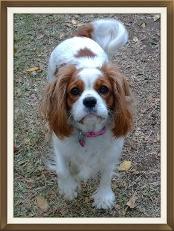 Sheba is our beautiful Blenheim. Our Sheba is so playful and loves to be outside. Although her favorite place to be is in my lap. She is perfecly marked and comes from great champion lines. A few champions in her pedigree are CH Barco Lasting Legacy O'Boyo, CH Dark Boyo and CH Curell Pretty Girl. She has a great temperament and healthy line. She also has a very soft beautiful coat.
This is Ginger La La. She is the daughter of Silas and Selah aka La La. Selah has been my all time favorite dog. I kept Ginger to keep her temperament and personailty passing down to future puppies. Ginger has shown to be a product of her mother. Sweet and sassy. She is the perfect companion. :)

The King's La La's Legacy
"Ginger La La"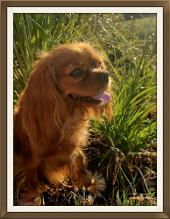 Blessing is just that. A blessing. She is the sweetest baby ever!! She is a product from Sheba and Silas. She is exactly the look and temperament we were trying for. She makes sweet, healthy , beautiful fur babies. The true definition of a Cavalier.

The King's Commanded Blessing
"Blessing"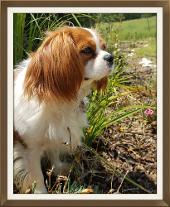 The Final Trump Shall Sound for The King
"Donald"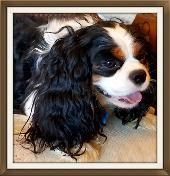 Donald is so full of life and fun! He is from excellent Grand Champion bloodlines. He is sweet as he is stunning. He has produced healthy show quality pups. He gets along with everyone and wants all your attention.
Silas Sings Praises for The King
"Silas"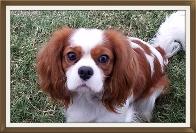 Meet Silas! The sweetest temperament in the entire universe!!I searched for this little man for two years! We have big plans for this little boy. The UK CH Homerbrent Expression, the Ireland CH Tregarron My Wish Come True, CH Loranka's Show Stealer, CH Sandel's Pride of Monarch are in his pedigree, just to name a few. He has really developed into a stunning young man.